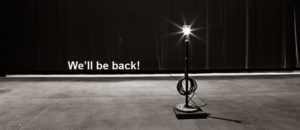 A HUGE THANK YOU TO ALL WHO DONATED TO THE "FILL THE SEATS" FUNDRAISER! WE MET OUR GOAL BEFORE THE END OF THE YEAR!! THANK YOU ALL FOR YOUR SUPPORT OF THE PULSE OPERA HOUSE!
Check back often for more opportunities to help keep the Pulse running during this pandemic!
**Due to the latest guidelines from the CDC and the Indiana Department of Health concerning the Corona Virus epidemic, the Pulse Opera House has closed temporarily**
YOUR HELP TO KEEP THE THEATRE GOING IS EXTREMELY IMPORTANT NOW!
Once this isolation is over and we can safely be together again, the Pulse will make every attempt to get back to normal and start shows again. IN ORDER TO DO SO, the Pulse needs some financial support. We are a Non-Profit Organization and being closed means NO INCOME to pay bills that never stop like insurance & utilities (We can't turn off the heat – pipes freeze).
The Pulse is partially funded thru tickets sales, but mostly by individual contributions and we URGENTLY NEED YOUR HELP!
You can help keep the arts alive in this community!
You can now send your donations through PayPal or Credit Card
by clicking the Donate button below!
Thank you and we hope to see you soon!